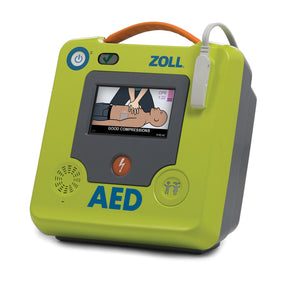 What is included in the product?
✅ FREE Installation and training.
If you are local: We will deliver and install if you are in the Menifee, CA area or the surrounding cities, including Perris, Moreno Valley, Hemet, Temecula, Murrieta, Fallbrook, etc. You also have the option to attend a class and get your Red Cross CPR and AED card for free. 
If you are not local: We will ship the AED to you for free and include virtual training for easy installation and use. 
✅ New ZOLL AED 3 Defibrillator (pictured)
✅ 8-Year Warranty On AED Unit
✅ CPR Uni-PADz Set (5-Year Shelf Life)
✅  Lithium Battery (5-Year Duration)
✅ User Manual

✅ Metal AED wall sign
✅ AED Medical Prescription/Authorization

✅ First Aid Kit: Contains a breathing barrier, basic bleeding control supplies, alcohol wipes, gloves, scissors, a medical razor, and a convenient case. 
The Simple Description: 

Warranty

 

- 8 Years
Weight

 

- 5.5 pounds 
Shock Type

 

- Auto or Semi-Auto. Auto provides a countdown and shocks. Semi allows you to press the shock button. 
Shock Strength-

 120J

-200J (adjusts as needed) 
Pad Life

 

- 5 Years 
Responsive Coaching -

 

Guides you step by step through the process with a touchscreen color display. 
Battery Life

 

- 5 years
Pediatric Button - Has a pediatric mode to provide a perfect shock for pediatric patients. 

Remote Monitoring - Check the status of your device remotely. 
Weather resistant - Suitable for outdoor use. IP rating of 55. 
The More Detailed Description: 

Live CPR Monitoring: A vivid, color gauge provides real-time feedback on CPR compression depth, ensuring proper compressions. Additional features include a CPR cycle countdown timer, shock count, and total elapsed time for efficient tracking throughout the rescue process.
3-Inch Touch-Screen Full-Color Display: The rescue process is represented with crystal-clear, color images, making the steps clear to trained and untrained rescuers alike.
Real-Time CPR Guidance: Beyond visual guidance, the ZOLL AED 3 offers verbal prompts such as "push harder" or positive reinforcement like "good compressions" to guide effective CPR performance.
Pediatric Rescue Button: In pediatric emergencies, instantly adjust shock and CPR protocols by pressing the Pediatric Mode button. The all-purpose CPR Uni-PADz are designed for both adults and children, negating the need for a separate set of pediatric pads.
Fast Shock Delivery: Capable of delivering a shock within 8 seconds, the ZOLL AED 3 enables faster treatment and continuous CPR, increasing survival chances.
User-Friendly: Combining a simple exterior, intuitive interface, and thorough guidance, the ZOLL AED 3 makes life-saving CPR accessible to all.
The ZOLL AED 3 is an owner-friendly, easy-to-operate, and low-maintenance device.
Long-lasting Accessories: With batteries and pads needing replacement only every 5 years, ZOLL AED 3 offers a less maintenance-intensive experience compared to most AEDs.
Smart Battery: With battery levels displayed on the LCD, you'll always be aware of your device's power status, ensuring it's ready when required.
Touch Screen Display: Quick and easy access to information or configuration settings is possible through the touch screen interface.
Durable Design: With a sturdy build, IP rating of 55, and able to withstand a 1-meter drop, the ZOLL AED 3 offers reliable performance in various environments.
Portable: The device features an integrated carry-handle for quick and easy transport during emergencies.